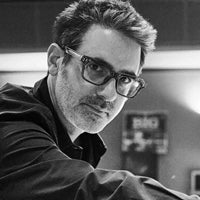 "The new Chandler TG Microphone is totally a modern classic. The different combinations of tape EQ curves, filters and the system A/B switch gave me great versatility in capturing a number of different sources on a recent recording session. I absolutely loved it on electric bass, acoustic guitars, drums and vocals. Any source on which you'd use a classic FET mic, the TG mic just smoked the old standards. The problem is that I need at least four of them!!!"
RYAN HEWITT (THE LUMINEERS, AVETT BROTHERS, RED HOT CHILI PEPPERS)
The Chandler Limited TG Microphone is a solid-state large Diaphragm condenser microphone with built-in EMI's Tape Equalizer found on the original TG12410 transfer consoles.
The Chandler Limited TG Microphone is an extremely flexible microphone that rivals the original FET47, C414 and U47 microphones. The onboard Tape Equalizer uses an adaptation of Abbey Road's NAB/IEC tape equalizer found on the legendary 12410 mastering console and is used to shape the sound at source. Used in combination with the special Low Cut circuit, offers a set of 5 tonal variations. The Low Cut switch offers a choice between 50Hz and 90Hz.
A Dual Tone System changes the input stage from the microphone modifying its voicing for further versatility. System A gives you the regular TG sound with a mid-forward sound while System B offers a more pristine sound capable of handling higher SPL.
The TG Microphone uses an array of TG amplifier circuits throughout but unlike the REDD Microphone doesn't include an internal preamp. As a result, an external mic preamp is required.
Two polar patterns are provided with a choice of omnidirectional and cardioid as well as a -10dB switchable via the external power supply. Other included accessories include a shock mount, 25' Mogami 4-pin mic cable and wooden case.
The Chandler Limited TG Microphone Main Features include:
Solid-state Large Diaphragm Condenser Microphone
Omnidirectional and Cardioid Polar Patterns
Unique Abbey Road NAB/IEC tape Equaliser
Dual Tone System offers two different voicings.
50Hz/90Hz Low Cut
-10dB Pad
External Mic Preamp required
Includes shock mount, 25' Mogami 4-pin mic cable, wooden case
Related Products