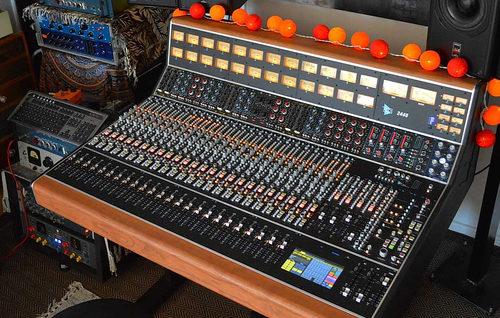 "The API 2448 is THE crucial centerpiece of my studio. The great thing with the 2448 is in using the desk in everyday studio life: producing and composing of songs, recording the right material with the best sound possible and mixing in a fast and spontaneous way. The routing and inline possibilities give me a lot of options and everything is tightly packed in a relatively small footprint but with the look and feeling of a large format console."
Matthias "Butch" Mezger - Seismosonic Studios, Germany
At a glance
40 Channels of Input, each with EQ & Mic Preamp
40 Faders (with optional automation)
8 Auxiliary Buses
8 Summing Buses
4 Stereo Returns
1 Stereo Bus
1 Stereo Bus Compressor (Optional)
8 Spaces for any VPR Alliance 500 Series module
The API 2448-40 is API's latest fully analogue inline recording console inspired by their legendary Classic 2488.
The API 2448 has both a large fader path for tracking and a small fader path for monitoring offering a total of 56 channels of audio at mixdown through the Program Bus. Both audio paths are contained in the 648C channel module and can be used for tracking or mixing.
The Large Fader Path includes API's 212L Mic preamp offering up to 55dB of gain and includes +48V phantom power as well as -20dB Pad. This is the typical tracking path. The Small Fader Path provides all the tools for mixing your audio signals and provide up to 10dB of gain via a rotary potentiometer replacing the slider fader.
Highly configurable
The API 2448 boasts both 1550A parametric EQ and 560 Graphic EQ giving you the choice of two of API's flagship EQs. Each input channel has a medium-size VU analogue meter with the eight first also working for the summing buses. Additional VU meters are also provided for the master section, eight Auxes and four stereo returns.
Monitoring and Master
For convenient monitoring, the meter bridge 2448 features full analogue VU metering. The classic black/red scale on a yellow background ensures easy visibility. Input channels are equipped with medium-sized VU meters, with the first eight doubling as meters for the Summing Buses. The Master Section includes small meters dedicated to the 8 Auxes & 4 Stereo Returns, while the giant pair displays the Stereo Program Bus. All meters are illuminated, providing clear visual feedback.
The comprehensive Master Section of the API 2448 empowers you with various tools to control and process your signals during tracking and mixing. It houses controls for the Auxiliary Sends, Summing Buses, Solo Bus, Oscillator, Talkback, Control Room monitoring, and Stereo Returns.
The master section provides an extensive array of tools including the aux sends, summing busses, solo bus, talkback control room monitoring and stereo returns. An oscillator is also provided for calibrating your system.
The four stereo returns section boast 500 Series slots to accommodate your favourite 500 series EQ or compressor. The stereo buss section can include API's 529 stereo buss compressor (optional) inspired by the legendary 2500 and gives you the unmistakable API mix buss sound thanks to its 2520 and 2510 op-amps and choice between Old/New compression types.
Final Touch Automation

API now offers optional Final Touch Automation fader automation for the 2448 console which was derived from API's Vision Automation System used extensively in the Vision, Legacy Plus and AXS consoles.
Consoles can be fitted with Final Touch Automation prior to delivery or existing 2448 consoles can be retrofitted.
Final Touch Automation combines user flexibility and operational simplicity and offers a host of features found usually only in the most expensive and sophisticated console automation systems. 
Related Products